MECHANICAL OR PNEUMATIC,
powerful and reliable tools for your project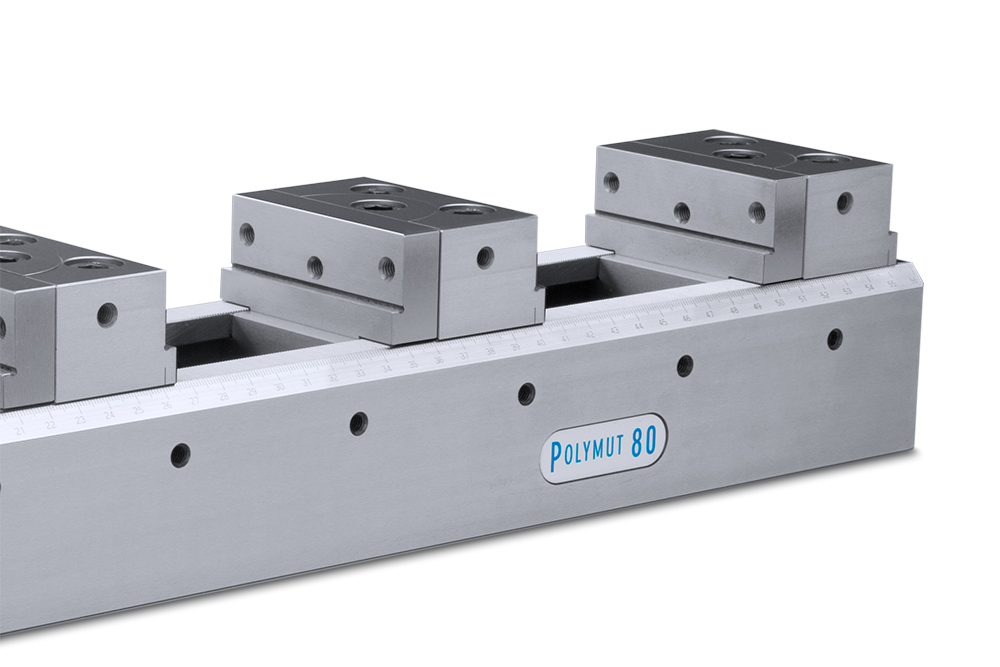 POLYMUT
The multiple clamping system
Flexible and able to tighten a lot of parts at a time, this product saves machining time and increases productivity!
This multiple clamping system is available in several sizes and offers a wide range of jaws and accessories to adapt to all types of requirements.
Polyvalent, the Polymut is designed to allow an integration and a commissioning in multiple configurations. It will easily adapt to your installations : machine tables, rotary tables, turrets or pallets.
CM-TYPE
Self-centering mechanicalvice
The CM-Type is characterised by its precision. With a guaranteed repeat accuracy of 0.01 mm, it is an ideal tool for roughing and finishing.
This selfcentring mechanical vice allows a varied tightening. Thanks to a wide range of jaws and accessories, it can be adapted to all types of parts. Its compact and unobstructed design is appreciated in different machining, especially on 5-axis machines.
The accessories of the Polymut range are compatible.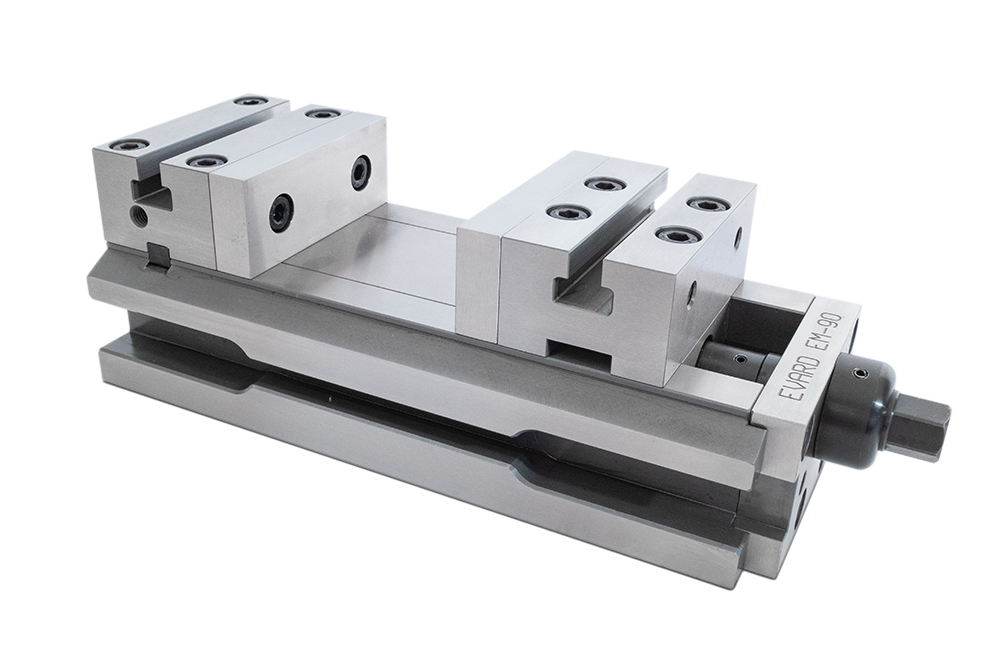 EM-TYPE
Universal mechanicalvice
Universal, the EM-Type is intended for conventional machines as well as CNC and grinding machines. His T-slots allow special jaws, stops and templates to be fitted.
Solid, it can be used in various positions and on several bearing surfaces. It distinguishes itself from the competition by its grinded and closed sides, which prevent chips from getting into the vice and makes it easy to maintain.
E-TYPE
Precision pneumatic vice
E-TYPE Precision pneumatic vice This pneumatic vice has been specially designed for fast, precise and powerful clamping. The hardened and grinded bearing surfaces and guides make it to a robust tool protected against chip intrusion.
The E-Type meets all the varied requirements of the mechanical industry thanks to its wide range of accessories and excellent repeatability.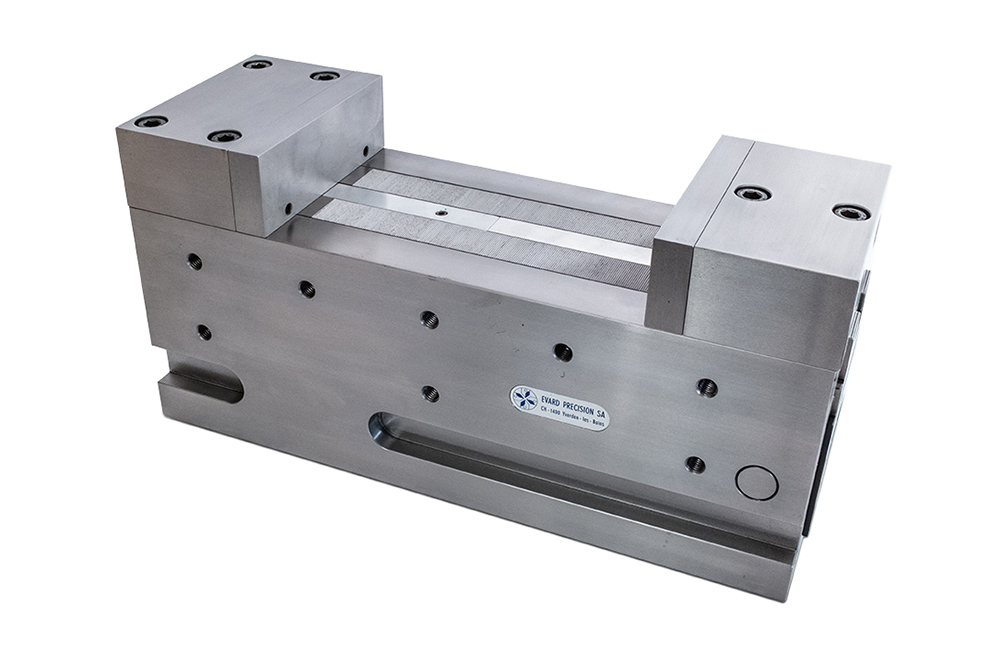 EV-TYPE
Multi-tightening pneumatic vice
The EV-Type is characterised by a large clamping range and an excellent T-guiding.
Its construction prevents the lifting of the movable jaw. The fixed jaw is oriented towards the operator for optimum working ergonomics.
Ideal for serial production, is design prevents chip intrusion.
CP-TYPE
Self-centering pneumatic vice
First of a new range of increasingly high-performance vices, the CP 130 impresses with its modular character, its self-centering pneumatic clamping inwards and outwards, offering the possibility of an off-centre positioning for optimal accessibility.
Developed to increase the machining possibilities, in particular to 5 axes machines, the CP 130 combines power and precision. Its large clamping range, excellent accuracy and intelligent design make it a reliable tool from roughing to finishing.
AZIMUT
Self-centering pneumatic vice
The Azimut is characterized by a self-centering pneumatic internal or external clamping. Thanks to its machinable jaws made of different materials, it adapts to the shapes of the parts. Due to its excellent repeatability, it is ideal for robot loading and serial production.
Intended for the microtechnology, watch- making and medtech sectors, the Azimut 50 incorporates the features of its big brothers. It is intended for clamping in the microtechnical, watchmaking and medical fields.
MONOBLOC TOMBSTONE
FOR PALETTS AND ROTARY TABLES
MONOBLOC TOMBSTONE
Polymut 4 sides
We now offer our Polymut system as a monobloc solution. Adaptable to all pallets and rotary tables, we inspire our customers with our incomparable precision in a compact design.
Do you also want to optimise your production in the smallest possible space ?
Do not hesitate and benefit from our know-how. The Polymut modular system will meet all your expectations.
SPECIAL AND PERSONALIZED SOLUTION
(on demand)