New Products
Discover our latest innovations, designed and produced to meet the ever higher requirements of the industry!
CP 130: Pneumatic self-centering vice
Power & Precision
First of a new range of increasingly high-performance vices, the CP 130 impresses with its modular character, its self-centering pneumatic clamping inwards and outwards, offering the possibility of an off-centre positioning for optimal accessibility.
Developed to increase the machining possibilities, in particular to 5 axes machines, the CP 130 combines power and precision. Its large clamping range, excellent accuracy and intelligent design make it a reliable tool from roughing to finishing.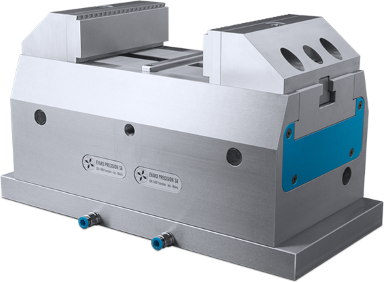 CM 20: Mechanical self-centering vice
A small vice for high precision
Characterised by a self-centering mechanical clamping, the latest addition to the CM range has been specially designed for clamping small parts that require high precision!
Designed for the microtechnical, watchmaking and medical fields, the CM 20 is compact, precise and appreciated by our customers for its robustness! Its light weight of 0. 215 Kg makes it an ideal partner for machining centres accepting low loads on their table.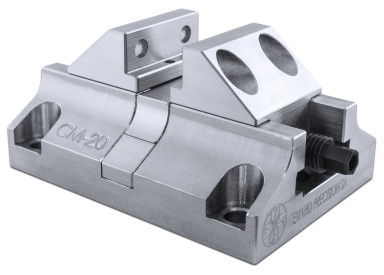 Azimut 50: Pneumatic self-centering vice
Efficiency at all times !
The latest addition to our Azimut range, characterised by its self-centering pneumatic inside or outside clamping has a major advantage: it takes up little space.
Designed for clamping small parts and intended for the microtechnical, watchmaking and medical fields, the Azimut 50, with its machinable jaws in various materials and its excellent repeatability is ideal for robotic loading and serial production!